This page is for our puppies and adults that have been placed in homes. To have your dog's photo added to the album, please email Ashley at: ashncav@gmail.com.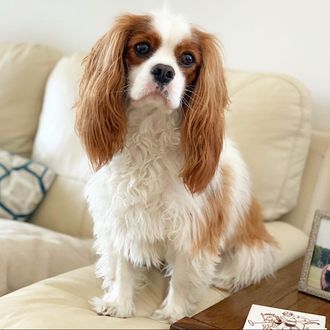 Ringo
"This is Ringo, he is 5 years old and is the best dog! He is wonderful with kids, dogs, horses, and has never met a stranger! Ringo loves to travel and is perfectly behaved on the plane or in the car. We are so grateful to Monticello Cavaliers for breeding the best friend we could imagine!"
-The Frye Family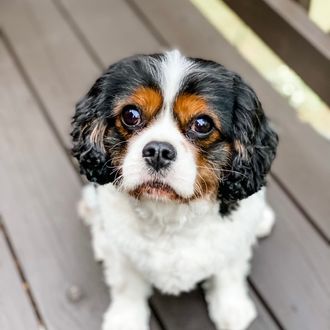 Gus
"Gus Simpson was born on 3/21/2018. He is a love of our lives.  He is the most cuddly, friendly dog who loves to EAT!  He completes our family and makes us smile every single day.  His temperament is perfection and he is exactly what we wanted in a dog.  Monticello Cavaliers is an amazing breeder and we will forever be grateful for our Gus."

-The Simpson Family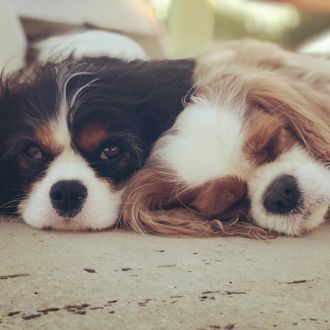 Audrey and Sophie
"I adopted two Cavaliers in 2015 and 2017. We live in Toronto, Ontario, Canada and we spend our summers on the east coast of Canada in Nova Scotia. 
Audrey is the Blenheim. She was born on August 21, 2015. Audrey is the queen. She is very smart and very dignified. She loves to play fetch - she could do it all day. 
Sophie is the tricolour. She was born on May 9, 2017. Sophie is very chilled out. She loves cuddles and is very loving. She is an amazing sleeper and she loves to hide her bully sticks in top secret places. 
Audrey and Sophie are the sweetest dogs and are so very loved. They very close."
-The McCain Family
Teddy
"This is Teddy, he is almost 6 months old and joined our family in October 2021. He is the most loving dog, especially to our two young boys. He even has a special little heart spot on his nose. Teddy's favorite thing in the whole world is to snuggle and be right there with us! We are so thankful to Monticello breeders for breeding the perfect addition to our family!"
-The Scarbrough Family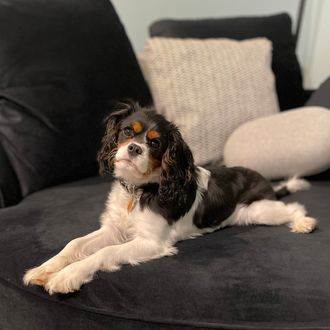 Kofi
"Kofi is an adorable tri-colored Cavalier puppy who was born is August, 2021 and is our second Cavalier King Charles. He adapted incredibly quickly to his new home, sleeping through the night on day one, without a single whimper. 
He is wonderful with our 3 children, and although he is still a puppy, he can definitely hold his own in a game tug of war or fetch. Often times thinking he is the boss with his little spicy personality. 
At night, or rest time, he prefers to snuggle with whoever is willing, but is also comfortable in his own bed with his toys, and blanket. He is growing like a weed and is the least picky eater of any dog we have ever had. (His older brother is a bit of a food snob which is our fault completely, so this is a wonderful change! :)
We love them both so much and can't imagine having another breed, especially since we have young children."
-The Culhane Family
Rocky
"There isn't a more patient, kind or loving being on the planet. He has such a low key temperament and truly emcompases the trait that male Cavalier King Charles' fall in love with you. He has never been a big barker, but when he does it is to go outside, or from a noise he doesn't recognize. He was "pointing" the first week we brought him home and is still convinced he is one day going to get the chipmunks in our yard, even if he hurts himself to do it!  He isn't quite as patient with his new little brother (yet), jumping on him all the time, but we are getting there. He watches out for him, whether he likes to admit it or not. We can't imagine our family without him."
-The Culhane Family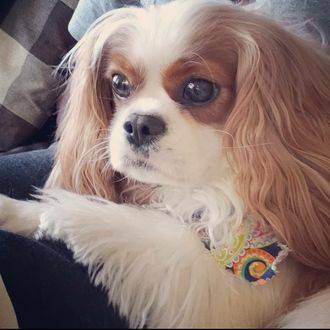 Leia
"This is Princess Leia. Born to Sir Lancelot and Queen Victoria.She will be 5 in April and is as healthy as can be! She is so smart and the most gentle companion anyone could ever ask for. She gets along with everyone! Including her French Bulldog sister, our pet bunny, and two cats! Leia has been an absolute joy and we love her dearly! Thank you again, Monticello Cavaliers."
-The Cloer Family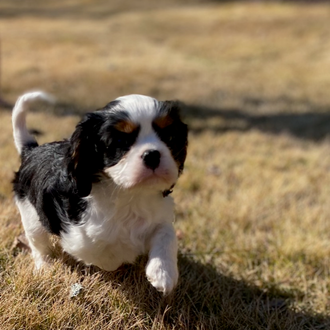 Freddie
"Freddie is a wild child with a soft sweet side who just wants to snuggle and be near you. He adores our children and is especially fond of our cat, Chipper."
-The Davis Family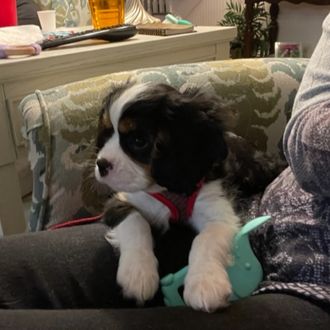 Kipling
"He is the smartest little dog and he learns so fast.   He can be a little fighter and tugging at our shoe laces one minute and then licking our chin the next.   He's already a lap dog.  He lays on my lap in the evening and actually watches TV."
-The McKinney Family